At Think Art Gallery we have clients that ask about what their options are for refreshing their current artwork including re-framing. There are a number of things you can do to work with the existing art you have to make it stand out more, create a visual punch, look bigger and more impressive. We think that "It's all in the presentation".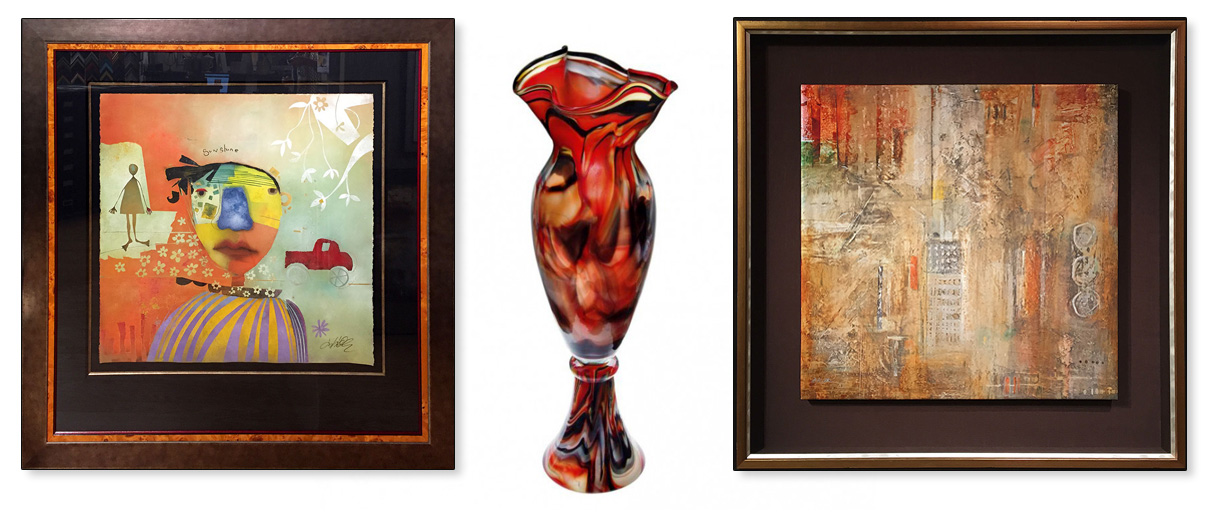 Reframe it bigger:
Think Art Gallery not only carries a large selection of Original Art, we also have an award-winning frame shop with a group of fine framing experts to help you with ideas on the best way to present your art. If you have a small piece of art you love, but wish it was a little larger, you can expand both the mat and frame to create the "Wow" factor in your room. Likewise, if you have a stretched canvas piece of artwork, you may want to consider adding a frame to create a substantial visual impact.
Select a new frame:
Another framing option would be to update your favorite art piece(s) to make a considerable change to your look. If the style of your house changes it does not necessarily mean your artwork needs to change, it could be the right time to change your frame style. Think Art Gallery has hundreds of frames as well as a large example of framed art hanging on our walls that are designed by our professional framers. Come by and take a look, bring your art and we will help you find a new look to match your style.
Combine it with more art, sculptures or vases:
It's an idea that's timeless because of its effectiveness: When you want to make one piece of art seem more powerful and dominant simply combine it with more art or other design elements to create one large gallery wall. Bring your art with you or take a photo of your art wall and we can help you pick other pieces that will compliment what you have. At Think Art Gallery we also represent artists who create sculptures, unique glass vases and dimensional wall art that can be combined with your current art.