Art galleries are spaces dedicated to showcasing works of art created by talented artists. Art has been a part of human culture for centuries, serving as a means of expression and reflection of society. They play a crucial role in preserving and promoting art by providing a physical space for artists to display their work. These spaces are not just limited to paintings or sculptures, but can also include photography, installations, and digital art. These galleries can be found in various locations such as museums, universities, and private establishments.
They provide us with an opportunity to appreciate and learn about different styles and techniques used by artists. Art galleries curate exhibitions that showcase a variety of artists, from emerging local artists to established well renowned artists, and highlight different themes or movements in art, allowing visitors to gain a deeper understanding and appreciation of the art.
Art galleries are also important for the art market, providing a space for art collectors and buyers to discover new talent and purchase works of art. They offer a unique shopping experience, where visitors can browse and purchase art in a curated environment that showcases the pieces in the best possible light.

Types of Art Galleries
Art galleries come in a variety of forms and specialize in showcasing different types of art. Understanding the different types of galleries can help visitors identify the type of art they want to see and the atmosphere they can expect to encounter.
Contemporary art galleries are dedicated to exhibiting the latest art movements and styles. These galleries showcase artwork created by living artists and often focus on experimental or avant-garde works. Contemporary art galleries are characterized by their dynamic and ever-changing exhibitions, reflecting the constantly evolving landscape of the art world.
Fine art galleries, on the other hand, are focused on displaying classical and high-quality works of art. These galleries showcase works that are highly regarded for their artistic and aesthetic qualities and often feature historical pieces from well-known artists. Fine art galleries typically have a more formal and traditional setting, with a focus on preserving and showcasing art pieces that are considered to be of significant cultural and historical value.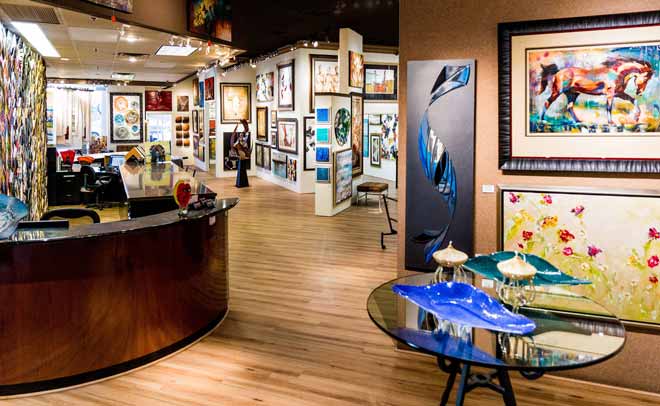 Commercial galleries, as the name suggests, focus on promoting art pieces that can be sold to collectors and investors. These galleries operate like businesses, with a focus on promoting the work of established artists and selling art pieces at a profit. Commercial galleries often have a broader range of art styles and mediums than other types of galleries, as they are focused on attracting buyers and investors.
Understanding the different types of art galleries can help visitors choose the type of gallery that best suits their interests and preferences. Whether you are interested in the latest contemporary art trends, classical and high-quality art, or collecting pieces for investment purposes, there is an art gallery that caters to your needs. Art galleries offer a unique and enriching experience for anyone interested in art and should be explored and appreciated by all.
Is there a difference between art galleries and art fairs?
Art galleries and art fairs may seem similar at first glance, but there are some key differences that set them apart. Art galleries are permanent spaces where art is displayed and sold, and they represent artists on an ongoing basis. They are like cozy homes for artworks, with carefully curated collections and a stable of artists they represent. They typically have a specific location and regular operating hours, so you can visit them any time and take your time to appreciate the pieces.
In contrast, art fairs are temporary events that bring together multiple galleries and artists in a single location for a limited period of time, often for just a few days, like bustling markets that pop up for a limited time only, offering a dizzying array of art from different galleries and artists under one roof. It's an exciting and dynamic environment that can be overwhelming, but also thrilling. While art galleries offer a more personalized and intimate experience, art fairs offer a unique opportunity to see a large variety of artworks in one place and engage with the art world community.
What You Can Find at Art Galleries?
When you visit an art gallery, you can expect to be immersed in a world of creativity, beauty, and thought-provoking works of art. Each gallery is unique in its offerings and can provide you with a different experience depending on the type of art it showcases.
Paintings are one of the most common types of art pieces found in galleries. You can expect to see a range of painting styles, from traditional oil paintings to contemporary abstract works. The colors, brushstrokes, and techniques used by the artists can vary greatly, making each piece a unique expression of their vision and creativity.
Sculptures are another type of art that you can find in galleries. These can be made from a variety of materials, including metal, stone, wood, and clay. Sculptures are three-dimensional and often have a tactile quality that invites the viewer to interact with them. Some sculptures are designed to be displayed outdoors, while others are more delicate and need to be protected indoors.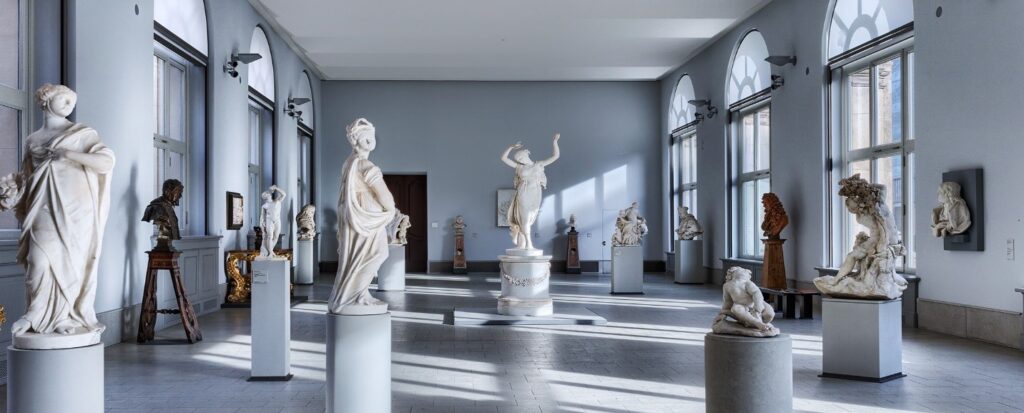 Photography is also commonly featured in art galleries. You can expect to see a range of photographic styles, from black and white prints to colorful digital images. Photography has the unique ability to capture a moment in time and convey a message or emotion through visual imagery.
Mixed media art pieces are becoming increasingly popular in galleries. These works of art can include a combination of different materials such as paint, paper, fabric, and found objects. They often have a unique texture and depth that draws the viewer in and encourages them to explore the different layers of the piece.
Galleries often provide the opportunity to learn more about the art and the artists who created it. Many galleries have information about the pieces on display, including the artist's biography, techniques used, and the inspiration behind the work. This can help you to develop a deeper appreciation for the art and the creative process involved in its creation.
Benefits of Visiting Art Galleries
Art galleries are not just spaces for the appreciation of art, but they also offer several benefits to visitors. They offer a range of benefits to visitors, from expanding one's knowledge and appreciation of art to providing a meditative and reflective experience. They can also be a social and cultural experience, allowing visitors to engage with other art enthusiasts and artists. Whether you are a seasoned art collector or a curious beginner, visiting an art gallery can be a rewarding and enriching experience.
Deeper Dive into the Evolution of Art
One of the significant benefits of visiting an art gallery is the opportunity to expand one's knowledge and appreciation of art. Art galleries offer a diverse range of art pieces, from traditional to contemporary, from established to emerging artists. Visitors can witness the evolution of art styles, techniques, and trends over the years, providing them with a better understanding of the art world.
Peace of Mind
Visiting art galleries can be a meditative and reflective experience. Art galleries offer an escape from the hustle and bustle of everyday life, allowing visitors to immerse themselves in a quiet and contemplative environment. Visitors can take their time to observe and appreciate the artwork, exploring the nuances and subtleties of the pieces on display. This can be a therapeutic and soothing experience, providing a moment of peace and reflection.
Socialize
Art galleries can also be a social and cultural experience. Visitors can engage in discussions and debates with fellow art enthusiasts, sharing their opinions and thoughts on the artwork. Art galleries often host exhibitions, openings, and talks, providing visitors with the opportunity to meet and interact with artists. This can be a great way to learn more about the artist's inspiration, creative process, and personal experiences. It can also be a chance to connect with like-minded individuals who share a passion for art.
Tips for Visiting Art Galleries
Here are some tips for visiting art galleries:
Research beforehand: Find out what exhibitions are currently on display and the types of art pieces you can expect to see.
Observe gallery etiquette: Follow the gallery rules, do not touch the art, and avoid using flash photography.
Take your time: Take your time to appreciate the art, read the descriptions, and ask questions if necessary.
Attend events: Attend art events and talks, where you can meet artists and learn more about art.
Purchase art: If you find a piece of art that speaks to you, consider purchasing it to support the artist and add it to your collection.
Discovering the Best in Fine Art at Think Fine Art
Introducing Think Fine Art, where you will find an incredible collection of original artwork from over 50 of Arizona's top artists. Their gallery offers a diverse range of artistic styles and mediums, including sculptures, and works on paper, canvas, metal, and board. They take pride in providing exclusive Giclee prints that are only available at their gallery, as well as award-winning custom framing, custom mirrors, and shadow boxes, ensuring they have something that will resonate with your taste. Their team of experienced designers is dedicated to providing exceptional services that enhance the beauty and value of your artwork. With a commitment to quality and excellence, Think Fine Art is the perfect destination for art enthusiasts and collectors alike.
Original Artwork from Arizona's Finest Artists
Their extensive collection of original artwork includes sculptures and works on paper, canvas, metal, and board. With thousands of pieces in inventory, they're proud to offer a diverse range of styles, from abstracts to westerns, and everything in between. If you don't see what you're looking for in their current selection, they're happy to discuss commissioning custom artwork from one of their talented local artists.
Exclusive Giclee Prints
In addition to original artwork, they also offer exclusive giclee prints from select local artists. These fine art reproductions are printed in-house on archival canvas with 100-year inks, ensuring that they'll last a lifetime. Custom sizes are available, from 12″ to 80″, and each print is hand-embellished by our local artists for a truly unique touch.
Award-Winning Custom Framing
Their experienced design team is on hand to help you create a custom framing design that perfectly showcases your artwork. With proper preservation techniques, they'll make sure that your fine art or family heirlooms last a lifetime. Choose from the Valley's most extensive framing selection, and take advantage of our framing samples to help match your decor.
Custom Mirrors and Shadow Boxes
They specialize in creating custom mirrors and shadow boxes to showcase your most treasured items. Choose from hundreds of frames to create contemporary or ornate designs, and rest assured that they use only the highest quality, locally sourced mirrors.
Art on Approval
Trying to decide which piece of artwork is the perfect fit for your space? Their Art on Approval service allows you to check out multiple pieces to view in your home or office, giving you the opportunity to evaluate size, color, and lighting to make sure you find the perfect match.
In-Home or Office Art Consultations
Their designers will visit your location to assist with your art selections, taking into account the size and scale of your space to help you find the perfect piece. They can even help you reframe your favorite old art to mix with your new pieces!
Gift Certificates
Looking for the perfect gift for that hard-to-buy-for person in your life? Their gift certificates are available in any denomination and can be used toward any of their fine art or framing services.
Wholesale Distribution
Finally, they are proud to be an industry leader in the wholesale distribution of original fine art to galleries, designers, and art consultants. They attract some of the most talented artists locally, nationally, and internationally, and are excited to bring their work to a wider audience.
Conclusion
We hope this overview of their services has piqued your interest in Think Fine Art. Whether you're a seasoned collector or just starting to explore the world of fine art, they're confident that they have something that will speak to you. With their experienced design team and in-home or office consultations, they can help you find the perfect piece for your space. Visit http://thinkfineart.com/ to know more about their services. So, what are you waiting for? Stop by their gallery today to explore their collection and see what they have to offer by contacting them at https://thinkfineart.com/contact/.