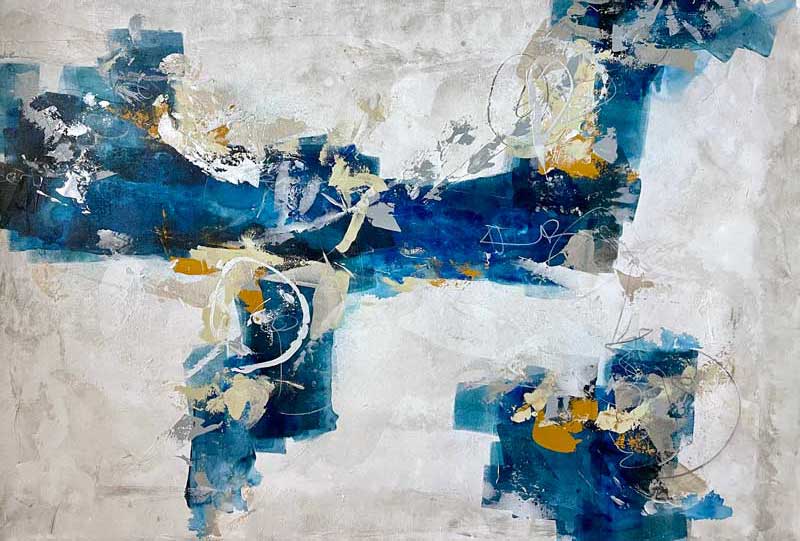 Hector D. Llamas
"Art can happen right under your nose while you are trying to create something else. I've learned to step back and take time to adjust my perception. Adapting to happy mistakes is always a challenge, but it alone can give a painting the edge it needs to be noticed."
Hector was born in Pittsburg California "the bay area", and raised in the small border town of San Luis Rio Colorado in Sonora, Mexico. He earned his Bachelor of Fine Arts degree from Arizona State University, with emphasis on print making, drawing and painting. Llamas stays prolific on his art by working with many artists in the valley sharing ideas and techniques. He has been working with the top interior designers around the valley for over 16 years. "I never stop learning". Learning from others has shaped me into the person and artist I am."
Abstract landscapes "horizons"
From a distance, the multimedia art of Hectors paintings may appear like simple abstracted landscapes, but a closer inspection of these pieces reveals a complexity of layers, textures, and media. Using materials such as, paper collage, sand, sea salt, acrylic paint, wax pencil, oil pastes, and more. Hector laboriously creates pieces that inspire mood, reflections of places and things that fascinate him. In a way, looking at Llamas horizon paintings is like creating your own sunset, of memories.
"Modern perception" -Nonrepresentational abstract
With his abstract compositions Hector does not attempt to represent an accurate depiction of a visual reality but instead use shapes, colors, forms and gestural marks to achieve its effect.
He works in a controlled improvisatory manner often using different color pallet and applies the mediums with random objects to create different textures. Layer after layer of multimedia strategically applied create the depth and inviting perception in Hector's abstract painting. His dramatic and unique scale in some of his pieces push you to see it from the far but the intriguing use of medium and texture keeps bringing you close.
His figurative work is full of movement, texture and layers of multimedia, as well as his architectural work. He utilizes the printing techniques of layering and transparency in paints to obtain just the right hue of color, and by adding the cross-hatching technique of drawing the result gives hectors figures volume and his buildings character.