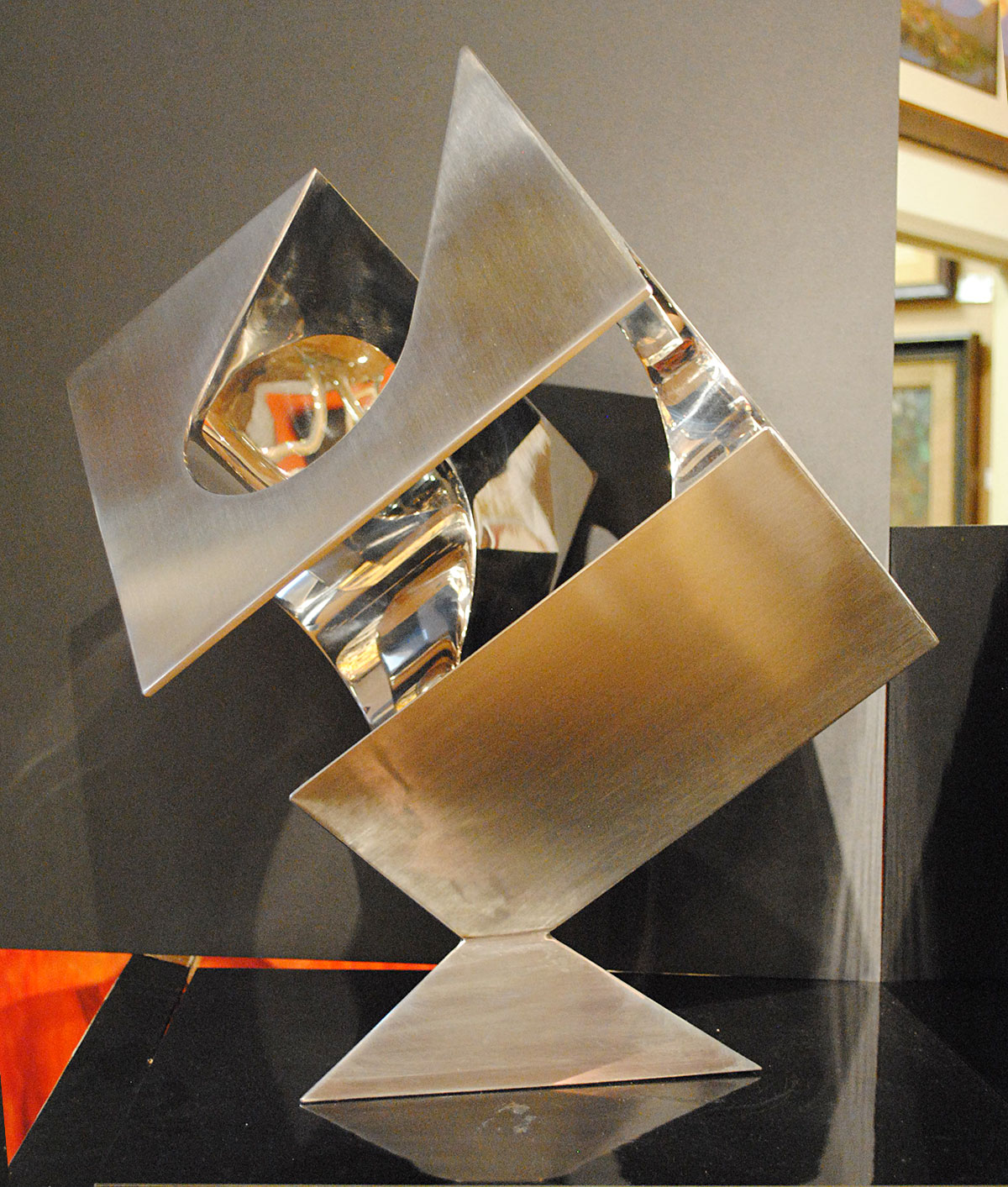 Metal is fascinating to me, and the various finishes and combinations of metals, textures, forms in concert with other elements, such as water, are almost endless. I continue to experiment with all of the avenues that metal offers; at times one might wonder if I have a signature style. That is not as important to me as finding new ways to work with metals and forms.
The expression that I keep coming back to, however, is the combination of geometric stainless steel and free-formed hand textured copper. The cool surface of the stainless welded with the rich brown or green copper, and lately, combined with bronze or glass, adds a rich diversity to my overall sculptural expression. I am completely captivated by crisp geometry with its inherent need for craftsmanship; yet the occasional rough,"found object" is intriguing , and I search for ways to use them. Reflective and polished materials have always had value association; patinaed and oxidized metals have a depth and warmth of their own, and I enjoy using diverse finishes in my works.
Ultimately, my legacy will be that I didn't settle in for a style: that if you have seen one of my sculptures, you have seen them all.
A native Minnesotan, Gary earned his Bachelor of Fine Arts degree from the University of Minnesota in 1970. Moving to Arizona in 1971, he earned a Master of Fine Arts Degree from Arizona State University where he began working on large scale metal sculpture, drawing influence from the Southwest contemporary lifestyle.
Though the largest works are favorites because of visual impact, the majority of his works are thirty-six to ninety-six inches. He has vast experience in creating site specific sculptures, frequently working with architects and individuals to solve the three-dimensional needs for a client.
Slater works with steel, stainless steel, copper, and bronze, and combinations of metals, materials, and finishes. He has created large (28') waterfeature sculptures and small (24") pedestal sculptures; wall relief sculptures, "multiple original" sculptures, and edition bronzes. To date he has created over 500 sculptures since he began his career, with work in corporate, public, and private collections throughout the United States and the world.